Just a warning, this blog post may be a little silly because it's all about food!
But I am just that excited, so I had to blog about it!
For those of you who me pretty well, you know that I am kind of picky when it comes to food.
I am the kind of girl who orders the same thing every time she goes to a restaurant.
To be honest, trying new foods kind of scares me!
Well, that has changed!
I was hanging out on my brother's house and he decided he wanted to make Thai food for dinner (he went on his mission to Thailand), and asked if I would like to join them.
I was a little apprehensive, but so glad I stayed for some tasty food!
Being able to help make the food was a blast as well!
Here is a look at what our dinner was like:
(These pictures are not actual pictures of the food we ate)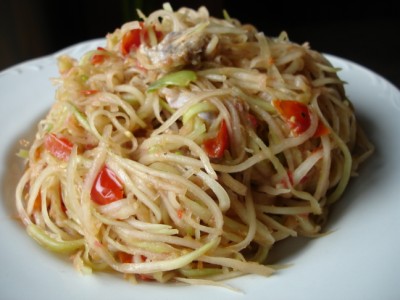 This was our salad, called Som Tam.
The main substance to the salad was unripened shredded papaya.
That was topped with green beans, Thai peppers, and lime juice.
It was quite an interesting taste because it was sweet tasting because of the papaya and lime juice, but the peppers made it really spicy at the same time!
You eat this with sticky rice! Delish!
This was the main course- Moo Ping.
Basically it is grilled pork, marinated in yummy spices!
Very different from American pork!
You also eat this with sticky rice!
This is the dish I made- Pad Thai!
It is very similar to Chow Mein, in the fact that it is noodles mixed with other things.
I really liked this dish because it was really spicy!
I am huge fan of food that is really spicy, and this dish definitely made it on that list!
And last, but not least...dessert!
This dish is called Khao Neeo Mamuang.
It is sticky rice topped with sweetened coconut milk and toasted sesame seeds, with some mangoes.
SO GOOD!
I love this one because it is very rich (and fattening), instead of super sweet!
I'm not a huge fan of mangoes, but I will eat them with this any day!
Well, that was my experience with Thai food!
I am in love with the dishes we had!
If you are ever in the mood to try some new food, keep Thai food in mind.
You will not be disappointed!